Izu Izakaya
64a River Esplanade Yarra's Edge (70 Lorimer St, Sth Melb) Docklands
ph: 9646 2400
http://www.ikuizakaya.com.au/
Tucked away in a quiet little area of Docklands, Izu Izakaya took a little time to get to, partly because the restaurant was hidden behind a building. Parking was rather tight along the service road as there were apartments/condos nearby which probably utilised these parkings as well.
The restaurant had a dim/dark setting with mood lighting. I rather enjoyed the atmosphere of the place. Other than a nice view of the docks outside, we were required to sit on the floor/cushion japanese-style to have dinner, which was great! The only thing missing from the picture was a nice warm heater under the table =D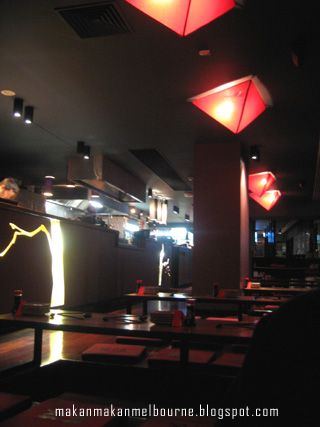 We ordered Umeshu (plum wine), mixed with soda water as drinks - my cousin has always raved about Choya but i never actually got down to trying it till that night. lol. and she was right! yum! i'm now a converted fan XD
We ordered Agedashi tofu for starters - it was done really well! the tofu was still crispy hot even after leaving it in the sauce for a bit of time, and who can resist the ginger/onion shavings on the top?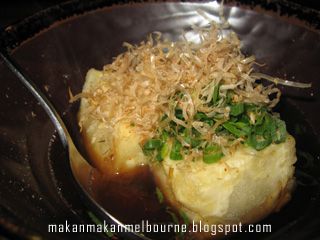 I also had 3 oysters with ponzu chilli lemon and flying fish roe - it looked so tantilizing on the plate! *drool drool* Apparently the restaurant only orders in a dozen oysters every day to ensure the freshness of the oysters. I was tempted to order more, but at $2.70 pp, i decided 3 was more than enough to contribute to the draining of TJ's bank account.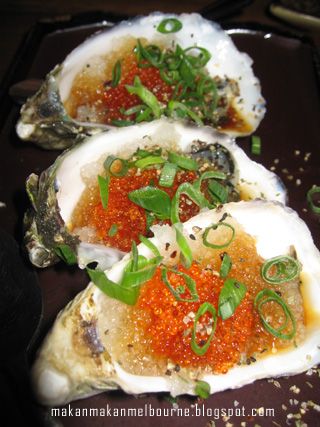 The oysters were REALLY fresh and silky smooth! There was one piece that had a bit of sand in it though, unfortunately. The toppings on the oysters were an interesting combination, but i think they topped a bit TOO much radish on it which hid the taste of the oysters.
Our Yakitori Platter came almost right after we had a bite of tofu, and once it arrived TJ and i knew we both ordered too much... again!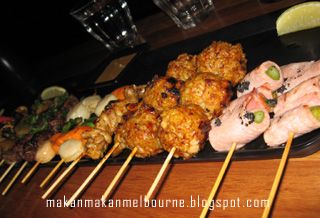 There were 2 skewers of the following:
Wafu steak
(Beef with Japanese radish),
Tsukune
(Chicken meatballs),
Hotate
(Grilled scallops),
Bacon & Asparagus
,
Tori
(Chicken thigh),
Mushrooms
,
Nasu
(Eggplant)
It all tasted great! Even the bacon & asparagus which initially looked (and sounded!) a bit too adventurous for us. My favourites from the platter were the Nasu, Mushrooms and Hotate! *hearts*
The next dish was the Seafood Tempura which had assorted vegetables, soft shell crab, prawns, white fish and squid. It tastes much better than it looks in the photo - i couldn't get enough of the soft shell crab and prawns! It was crispy yet moist inside, and dipped with the sauce, was just delicious!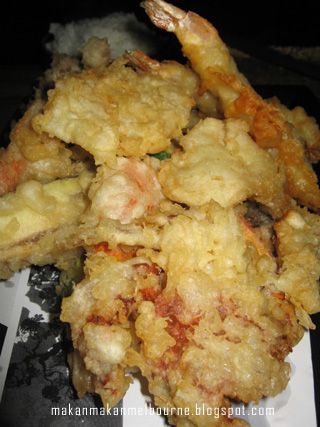 I was literally bursting when the waitress served my Sushi and Sashimi platter. They must've thought we were crazy to be eating so much for two.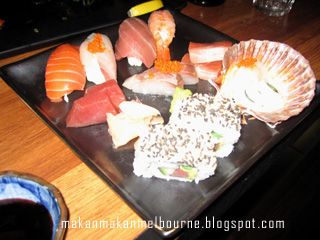 The fish was quite fresh, but I've tasted fresher tuna before so it was slightly disappointing, but still good. After force-feeing TJ nigiri rolls, I finished the plate! whew.. was so glad I convinced TJ to order it for ONE person rather than 2!
You'd think we learnt our lesson and just stop eating after that, but nooooo.. we had to have dessert. Ordered the green tea ice-cream which we polished off quickly! The ice-cream was smooth and didn't leave a slight bitter tea taste, which I enjoyed. Would've been a nice touch if there was red bean at the side though.
So that was our pig-out night - I was literally dying from over-eating all the way back and TJ's poor bank account had another major setback. Shouldn't he be relieved that anniversaries only come once a year? XD
Overall, the service was fantastic, and the food was great! Atmosphere was very good too - it's a great place for a quiet/romantic dinner, and they have a seperate room for group bookings. The only downside would probably be the prices - not exactly a weekly dining venue I guess! =) Overall rating would be 8 1/2!