EQ Cafe
Melbourne Concert Hall
100 St Kilda Road
Southbank VIC 3000

Located just a few minutes walk from the Concert Hall in the Arts Centre, EQ Cafe seems like your typical pricey European restaurant. However, I thought the trendy front of the restaurant was a nice "I look expensive but I'm not really" touch.
A group of us had just a little over an hour to have dinner before our symphony started, and Le suggested we dine nearby. We waited for a table for a little while but no one seemed to be paying us much attention for the first few minutes. After telling the waitress we didn't have a booking, we were seated about 5 minutes later.
The selection of food available was somewhat disappointing. The mains were limited and were medianly priced at approximately $25. After ordering, a waitress came around to serve bread and butter. The bread was disappointingly cold and not very fresh, but since we were a hungry lot we ended up gorging it rather quickly.
The food took its time, and no one bothered coming around to fill up our glasses of water. It wasn't exactly very busy that night - it just seemed that the waiters/waitresses had something to do other than serve us :(
We finally got our food about 30-35 minutes later, so we had to eat fast! I
ordered the Smoked chicken, Loganiza sausage, potato and grapes in a light mayonnaise sauce and TJ ordered a Spaghettini with a ragu of pork and beef.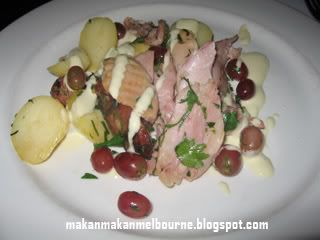 The smoked chicken was decent, but I personally thought the chicken wasn't very cooked. It was also a relatively small meal - with about 6 slices of chicken. The sausage was just average, and the sauce tasted strange with the combination. The grapes were also warm! I didn't like the idea of warm grapes, so I didn't quite enjoy it.
Presentation-wise, the spagetthini wasn't all that appealing. It looked slightly lumpy and the reddish-grey colour really threw me off. As for the taste, it was very ordinary and "totally not worth the money".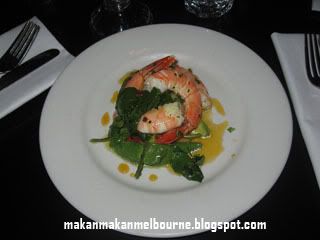 A friend selected an appetizer as she wasn't very hungry. It was small serving of prawns, rocket salad, avocado and tomato jelly. The tomato jelly was interesting though - it was a serving of cubed mashed-up, frozen tomato. Despite the interesting touch, it was a bit hard getting used to.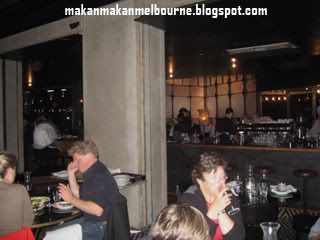 After we finished our meal, the bill took its time as well, and we finally left in time to catch the symphony! Overall, I'd say this restaurant was a bit disappointing. It looked fancy, but the food and service was below average. I read in another blogger's post that the fish cakes were good though, so if you do decide to eat at EQ, try that.
Service: 3/10 - Ho-hum. The fact that there were so many waiters/waitresses around doing nothing lowered the score even further.
Food: 5/10 - Ordinary, or ... different. Depends on your food selection.
Layout: 7 - The inside of the restaurant was nice, and the ambience was good. I liked the lights in the restaurant and how it overlooks the Yarra river.
Overall: 4/10. I'd suggest trying out another restaurant unless you have free time to spare and want a dish that's light and interesting.