Glen Waverley Galore - Round 2!
Ok. I'm on a roll.
So, after J.G Dumpling the girls decided to head off for dessert. Someone contemplated Gelati but no way was I going to have gelati out in the cold. Someone then suggested PP, and off we went!
Pancake Parlour Restaurants, The Century City Wlk GW
I think it was Wendy's first time here. lol. should've let her handled the review.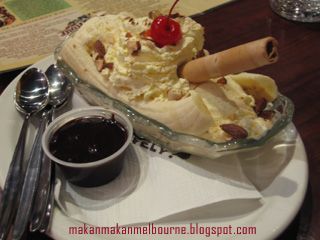 Hot Fudge Sundae!
Ratings: 7 1/2
Organic Ice-Cream . Bananas . Nuts . Wafer . Hot Fudge = Ice-Cream Heaven!
The ice-cream was sweet and smooth and the fruit and nuts were a nice touch. The fudge was nothing to shout about, but was good as a dip for the short stacks.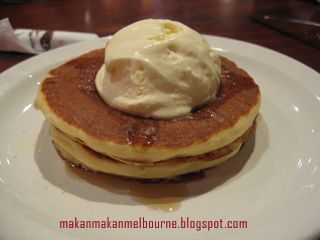 Short Stack with Maple Syrup & Organic Cream
Ratings: 6 1/2
I liked the short stacks but I thought Ice-Cream was a better choice than the cream. It was a bit bland after the cream runs out - could've used more maple syrup!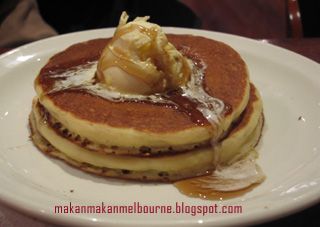 Short Stack with Maple Syrup & Whipped Butter
Ratings: 7
Whipped butter is heaven-sent.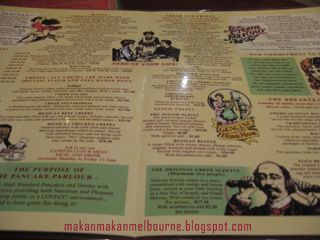 Menu Shot #1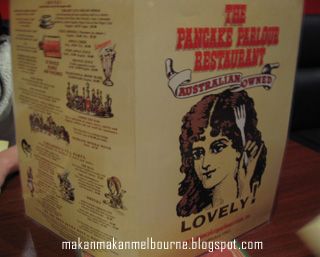 Menu Shot #2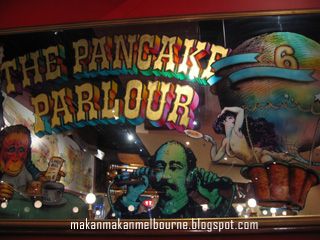 Pancake Parlour!
Dessert Summary: If you haven't had a chance to try organic dairy, this is probably a good place to start off. To give a rough idea of pricing, the ice-cream was approximately $10. The mains in PP are not bad, and they've got dinner and lunch specials going on now. Will do another review if we end up going for mains there. However, returning to the dessert summary - the ice-cream was just too delicious for words. Not entirely sure about the calories gained from it though.
Ratings:
Service: 5 1/2 - PP seemed understaffed.. or if there were waiters, we didn't have it easy trying to get someone's attention to order. Even after we said we were ordering to share they didn't give us enough spoons.
Food: (dessert) 7 1/2 - Can't rave enough about the organic ice-cream and whipped butter..
Layout: 7 - Interesting paintings and glass stencils. There's also a table where you can play giant chess. Would've loved to give it a go, but the table was occupied when we got there.
Overall: 7 - Desserts-wise PP did a good job. Slightly pricey for poor uni students, but a friend had a buy one free one short stack voucher, so it all turned out good. lol.